Before listing a product, make sure you have created a Jawa account and set up your store!
---
Creating a New Listing
The first step to creating a listing is to log in, then select the "SELL YOUR GEAR" to open the listing creation page.

---
Next, you will need to select your Category, Product Type, and create a catchy Listing Name!
If you can not find a match for your Product Type, please select Other. This will be an optional field in the near future.
If this listing is for a specific person and you don't want it to be publicly listed, ensure you enable the Private Listing toggle as well.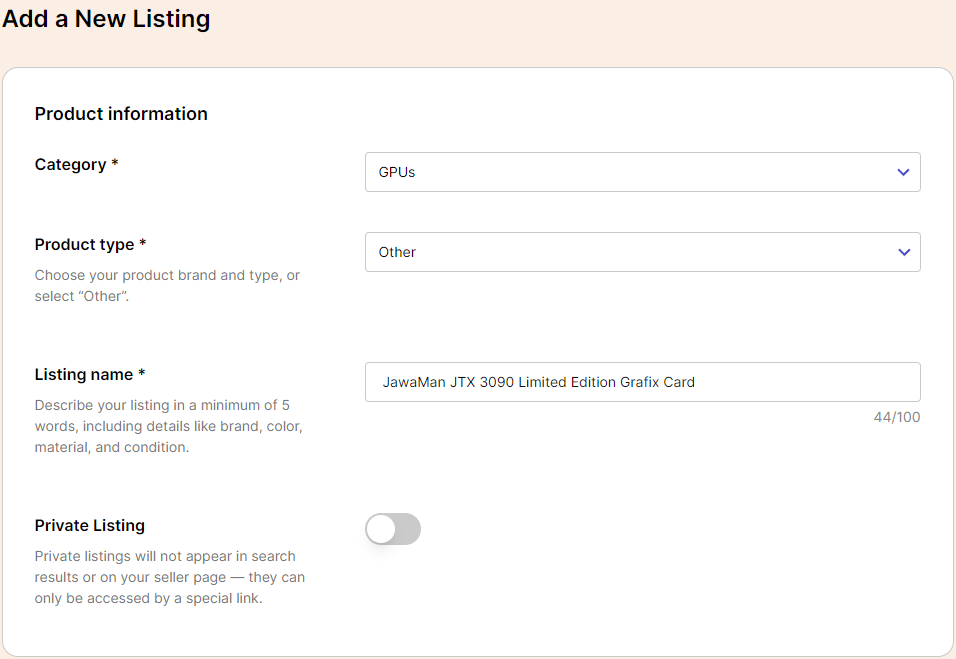 ---
In the next section, you will be required to upload at least 2 photos of your item.
If you are listing an item in any condition other than "Brand New in Box", you must provide a photo of the physical item you are selling - this can not be a stock photo!

---
Now is the fun part - the Product Detail section. Here is where you will select the Product Condition, Product Description, and have the option of adding YouTube link to show any relevant videos for your product. If your Product Condition is anything other than Brand New in Box you will also need to specify an estimate on the years the product was used with the Product Usage dropdown.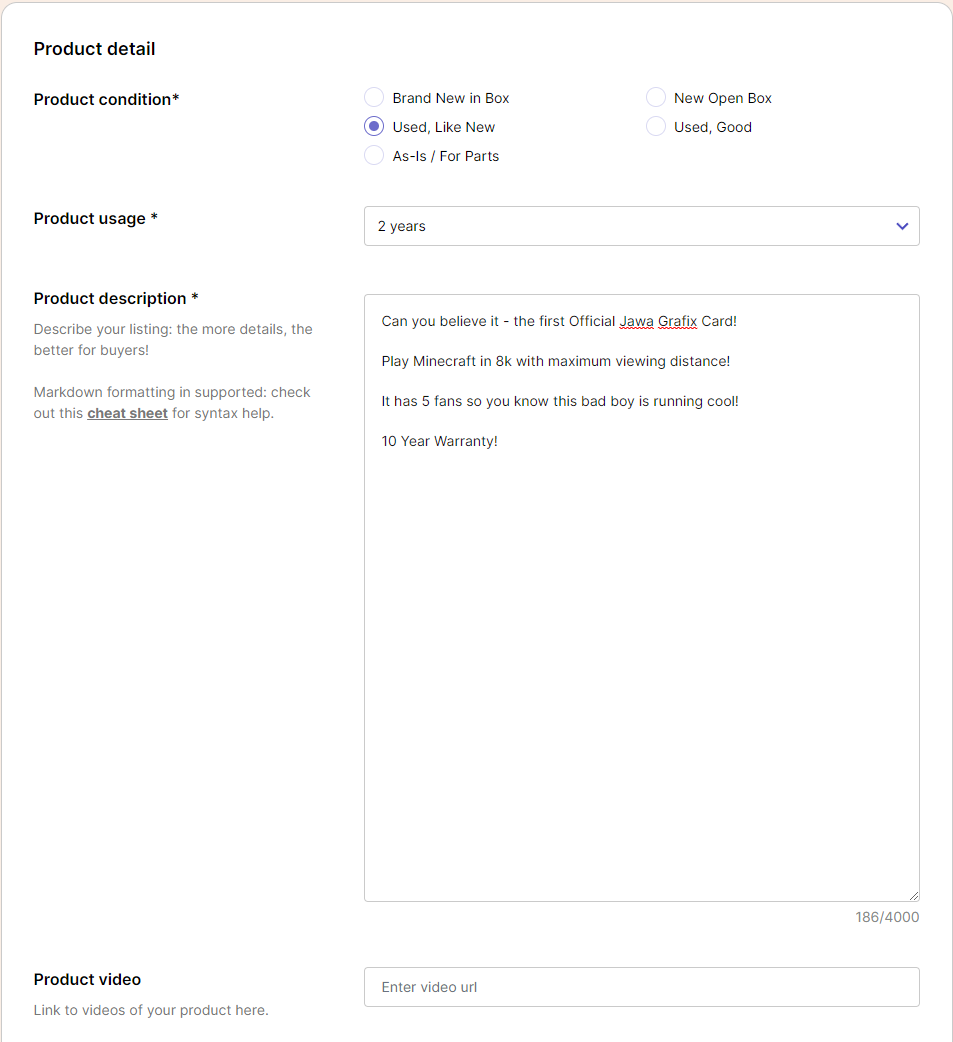 ---
Now for the most important detail - your Price and Quantity! You can also input your SKU if you utilize SKUs for inventory purposes.
---
Next up, Shipping Fulfillment information. If you are using your own shipping label, you will select Use My Own Shipping Label and then input the shipping cost you will be charging to the buyer.
If you are going to use the Jawa Shipping Label, proceed to the next section!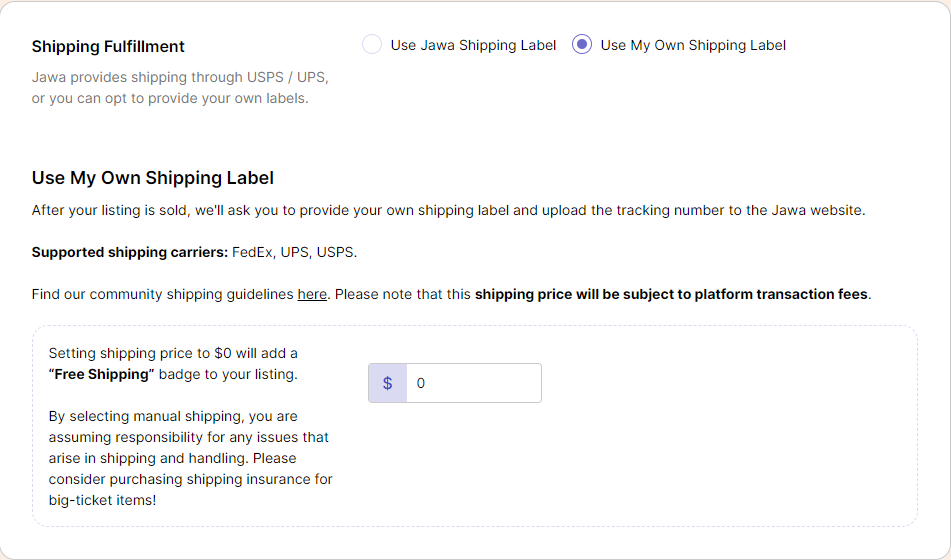 ---
To use a Jawa Shipping Label, you must first add a new Shipping Address, and then supply the Product Dimensions - these are the dimensions of the box you intend to ship the product in.
You will also have the option of Shipping Insurance for your Jawa Shipping Label. Shipping insurance will not be available on items priced below $100, as most shipping services will insure up to $100 by default.
Some product categories may not qualify for shipping insurance - if you are unable to toggle insurance and you think it should be applicable to your product, please reach out to support@jawa.gg so we can investigate.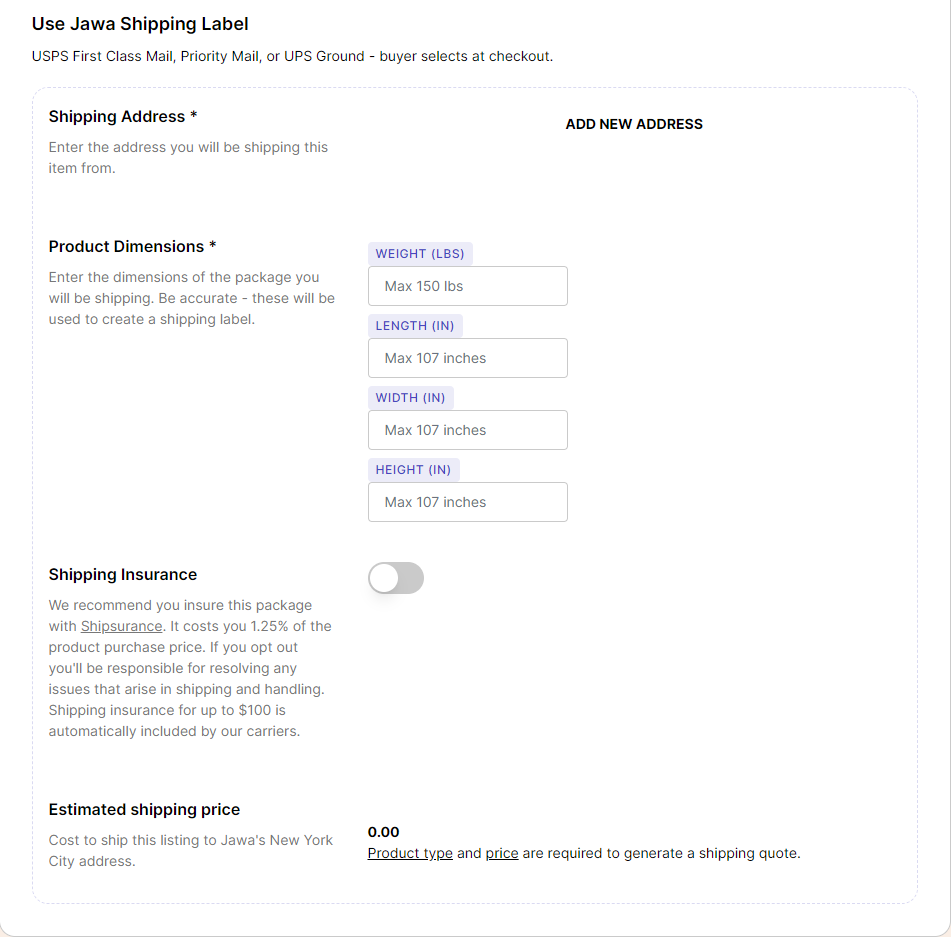 ---
If you have properly inputted your Shipping Address and Product Dimensions, the Estimated Shipping Price will populate and the Publish Now button will be active. If you aren't quite ready to hit publish, you can always use the Save Draft and publish it later
That's it! You did it! You'll be a top seller in no time!